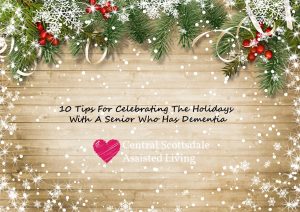 Dementia describes conditions that change the brain. These can affect language, memory, and decision making. The most common type is Alzheimer's, followed by vascular dementia and Lewy body dementia. Advanced Parkinson's disease can also cause dementia to develop.
While the severity and symptoms may vary, dementia can have a significant impact on a person's ability to live independently. Central Scottsdale Assisted Living provides a safe, comfortable place for seniors living with dementia. We understand how challenging this condition can be for our residents and their loved ones.
That is especially true during times of celebration, like the holiday season. Many families have traditions that they have kept alive for years. Family members who are now elderly once held an integral role in the planning of activities and gatherings. When they can no longer take up that mantel, it can be devastating for them and their loved ones.
There is no denying the fact that dementia will change your parent or grandparent's life. However, that doesn't mean you have to give up on the holiday festivities you both loved. The following tips will help you plan a celebration that includes someone with dementia while keeping them safe.
Let Your Loved One Help Plan the Event

– Someone with less severe dementia may be able to participate in holiday planning. This is a great way to make them feel included and ease them into future holidays at an assisted living facility. Let them make decisions, if possible. This should be done as long as it remains a positive experience for your loved one.

Balance Activities Based on Their Needs and Abilities

– Every patient will have different needs and abilities. This must be taken into consideration before planning holiday trips and visits. Don't plan to do more than your loved one can handle. It also helps to have trusted friends or family members there to help you supervise and care for your loved one. Remember that festivities may need to be cut short if your parent becomes upset or overstimulated.

Let Others Know About Changes in Your Loved One

– Let others know what to expect from your loved one with dementia. They may not remember who a familiar relative is or may repeat themselves in conversations. They may need more time to finish a thought. There is also the possibility that they may need to leave early or step away from the crowd. Prepare others, so they aren't surprised or offended. Explaining this can be an emotional experience, so it may be easier to write a letter that you can email or print and mail to everyone before the holidays.

Be Clear About Limitations with Others

– Make sure you set clear boundaries and limitations for your loved one with dementia. This is especially important if you will be going to someone else's home or if others are helping to plan activities. Pushing a dementia patient beyond their limitations can lead to problems and may cause the visit to be cut short. Get everyone on the same page to keep gatherings as positive as possible for all involved.

Simplify Your Holiday for Less Stress

– Many people like to go all out for the holidays. If you are including someone with dementia, it may be better to simplify as much as possible. Less stress for you will make it easier to take care of your loved one. Routine changes can cause agitation, so it is best to start with a plan that sticks to their normal routine as much as possible.

Provide Distractions for Your Loved One

– Distractions can help dementia patients relax if they become overstimulated. Have something ready to go in case you need to take control of the situation. For example, looking through an old family photo album is a great way to redirect their attention if they become upset. These should be calm, quiet activities that they can enjoy.

Avoid Stimuli That Can Frustrate or Confuse

– The holidays are full of sights, sounds, and smells. These can cause overload in the mind of a dementia patient. Big crowds, unfamiliar locations, loud music, and unusual lighting can trigger an adverse reaction. The same goes for rich food and drink. Avoid going to places that include this type of stimuli and keep it to a minimum when your loved one with dementia is present.

Don't Bring a Big Crowd to Visit

– It may be better to visit your relative in their assisted living facility rather than bring them home for the holiday. When doing this, plan to stop by in smaller numbers. Plan for this accordingly, especially if you have a big family. It can help to create a schedule and assign everyone a time to visit. This can also improve the quality of time spent with your loved one because they will be able to focus better with fewer distractions.

Provide a Quiet Place to Rest During Activities

– Have a go-to place ready in case your loved one gets overwhelmed. This should be a quiet space away from the activity of the holiday. If you're doing something at their assisted living community, the celebration could be held in a communal area while their room could be the reserved quiet place. If you are bringing them home, make sure you have somewhere for them to rest whenever they need it and let others know to keep this area free and accessible.

Don't Give Up the Things You Love

– You shouldn't forget about your needs during the holidays. While changes will have to be made, it's ok to take a break and do something you enjoy. You can ask a family member to take over for you while you're away doing your favorite holiday activities. If you're invited to a party, it's ok to go even if your loved one cannot attend. It's much harder to care for someone with dementia if you are feeling drained and fatigued. Don't forget to make time for yourself during the holidays.
Having a loved one with dementia doesn't mean that you cannot bond over the holidays like you used to do.
Contact Central Scottsdale Assisted Living community to learn more about our seasonal activities. We can also provide advice when deciding whether it is safe to bring your loved one home to celebrate this year.